Recruitment Company
Christian Nannies, a christian-based child minding service, sought WaterMill to improve their online presence and their attractiveness to new customers and nannies.
They wished to use their new website as a marketing tool and a place to gather information vital to matching families with nannies which most suited them. Christian Nannies requested a modern site with clean images and attractive formatting which would be responsive across all devices and could be easily maintained.
Christian Nannies requested that their new site would have integrated social media and a blog spot where they could post new blogs and save them for future years. Through this brand new website Christian Nannies hoped to increase their Search Engine Optimisation (SEO) and increase their business popularity.
The Task
At WaterMill our task was to create a new website that would reflect Christian Nannies over their next five years of business and reach out to new clients and potential employees.
The urgent time frame required that their new site would be finished within a month and that all work undertaken would be kept within a previously arranged budget yet still yield a modern, responsive and bespoke result.
Action
In regards to improving Christian Nannies online presence we started by designing a new, clean website which would impress a modern and simplistic feel on users.
The free stock images and clean font-face that we used were important in order to keep continuity and royalty imagery. To improve SEO organically is to include content which has been produced by the company and the addition of the blog would assist this greatly. In our experience connecting the blog page to social media links and posts that are sent across marketing sites with an URL link are proven methods in increasing the SEO of a new website. By putting this into action we managed to concisely address those points which we were tasked with.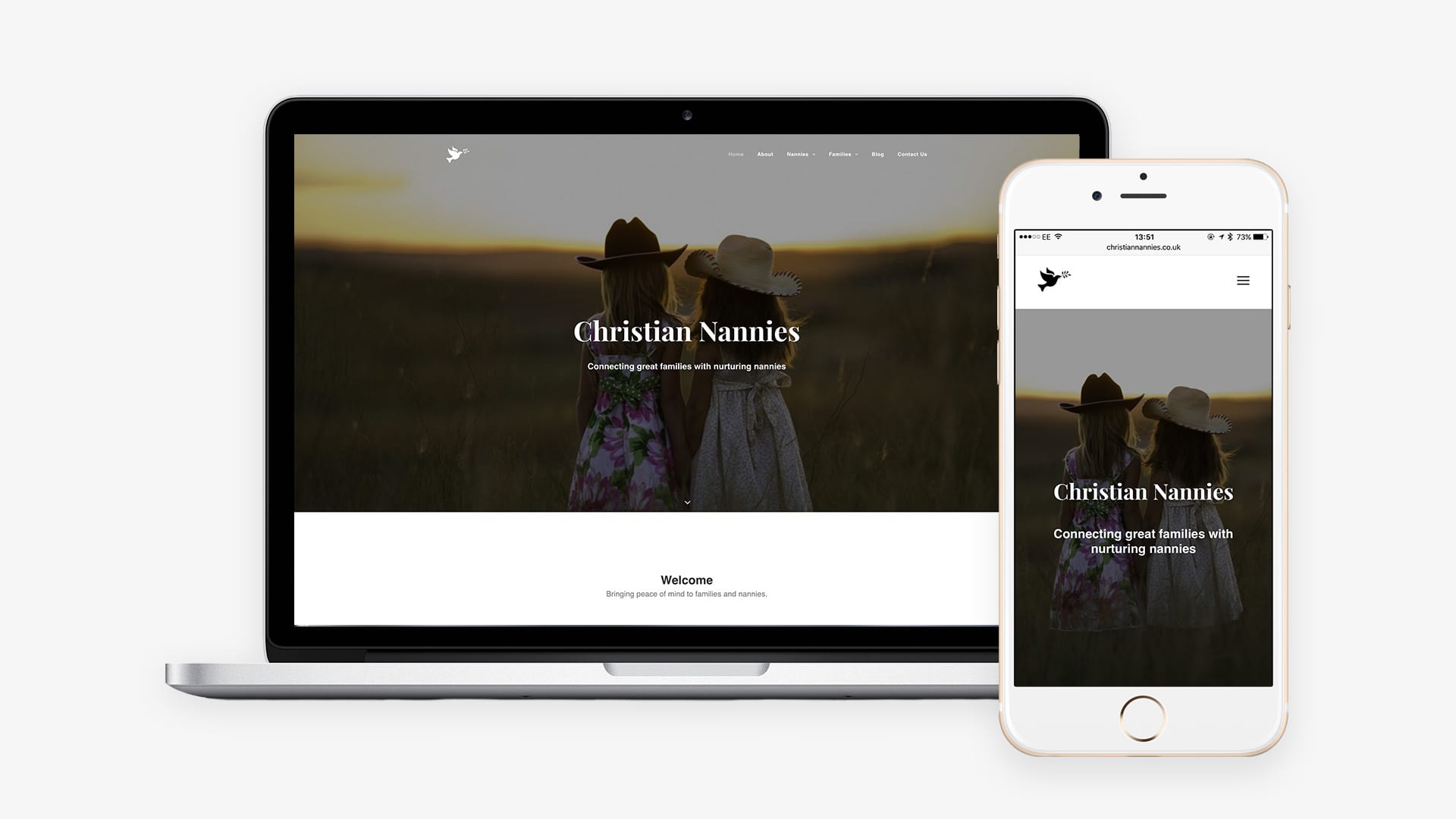 The Results
Below are some results from the first 4 months of the new site.
The data reflects the improvements Christian Nannies have experienced due to the new site that was created in September 2016. We found customers were more engaged with the new site, and were being converted into enquiring more than before. This was a great build that indicated the power of design and intelligent ux to increase awareness of the company.
45%
Mobile usage
We increased views on mobile, as the site was now enhanced for smaller devices.
38%
Site views
By introducing the new site design we found more people visited the site and spent longer browsing though the content.
72%
New users
Part of our brief, was to introduce features that would create new leads, the new design and user experience was proven to be a success.
Evan and Ben were a pleasure to work with! They designed my website for my business Christian Nannies. I am very happy with the layout and design and would highly recommend them for your website if you need updating and a new look.
Angela Meyer
Managing Director, Christian Nannies